Hello Jordan Family,
Please join us in congratulating our own Rita Aigbojie, LPN, who was awarded a scholarship this past weekend. Rita serves our patients and community at the Jordan Center in pediatrics.
On Sunday, she was presented the Jordan Health Center Scholarship, by Dr. Janice Harbin during the Beta Chi Chi, Inc., Annual Founder's Day and Scholarship Luncheon.  The Jordan Health Center Scholarship was established by Dr. Janice Harbin, President and CEO of Jordan Health, awarding $1,000 to a student nurse in support of diversifying the future of the nursing workforce.
Beta Chi Chi, Inc. of Chi Eta Phi Sorority Inc. is a nursing sorority that in collaboration with community partners, awards three scholarships each year to local student nurses enrolled in an accredited school of nursing.
Let us all salute Rita for continuing her education and pursuing her dream to become a Registered Nurse.  Congratulations!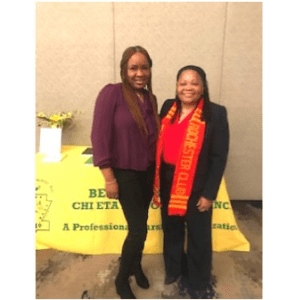 !